Check results of your personalized campaign directly on Yottly dashboard. Here you can find different numbers and metrics referring to your performance. Above the tab is also the list of running campaigns with specific performance values.

Targeted – Number of email addresses the newsletter has been sent to (customers with duplicated emails omitted)
Open rate – The ratio of people who opened a newsletter against the total number of sent emails in a campaign. The value always refers to particular campaign not date period. This metric is very useful for email subject A/B testing.
CTR – Click through rate is the ratio of users who clicked on specific link in a campaign to the number of total users who were impressed (viewed a page,opened an email or ad).
Unsubscribe rate – The ratio of customers who unsubscribed your newsletters against the total number of sent emails in a specific email  campaign.
Orders – number of orders
Conversion rate – the ratio of customers which made an order to the number of customers which clicked through the email
Revenue – Net sales
Last click – Last click refers to place/ad where the customer came from to your webpage without any further subsequent interaction with a marketing campaign
Last click conversions – The number of provided last clicks
Last click revenues – The number of sales attributed to last click
Assisted click – Any search ad click that happened prior to the "last click" before a conversion
Assisted click revenues – The number of sales attributed to assisted click
ROI – The amount of return on an investment relative to investment's cost
You can check the results of your campain directly in the detail of the campain as well. On the Yottly dashboard, or in the calendar, choose a sent campain and click on it. The detail of the campain will open.
Click on the number 4 – Statistics. Here you are able to see all the e-mail adresses, which the newsletter was sent to.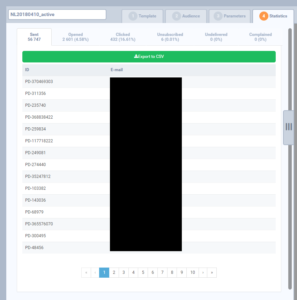 On the bar in the upper section, you can see the list of e-mails, that performed some action.

Sent – e-mails that recieved the newsletter
Opened – customers, that opened the newsletter
Clicked – customers, that went to your e-shop through the newsletter
Unsubscribed – customers, that unsubscribed from newsletters
Undelivered – adresses, that didnt get the newsletter (mailny because of non-existing e-mail adress)
Complained – customers, that marked the newsletter as spam
By clicking on the Export to CSV button, you can download the list of the e-mail adresses.