In Yottly we work with two e-mail templates. The first one is static and the second is product template. The difference is between recommended products.
Segmentation: The appeared content is static – determinate. However it is also necessary to adjust the template according our rules what means adding obligatory "Mustache". This ensures appropriate sending newsletters. More info about Mustache can be found here.
Personalized: The appeared content is not static but variable. The included products are appeared dynamically and added automatically by Yottly. Their selection is based on personalization and customer's previous behavior. Recommended products are based on deep segmentation. That is why we use here more Mustache and define individual tags values.
Custom: Here you can upload your own already prepared template or create a new one in our HTML editor.
---
How to upload ready asset?
First go to Templates and choose Emails. Then click on New template.

Now you need to choose which type of newsletters campaign are you going to use. You can find differences between them above in this text. Segmentation, Personalised and Triggers mails can be created right in Yottly through Drag&Drop editor. In case you have already prepared your own template, you can upload it in the section "Custom". Or you can create a new template here by using code editor.

In case you do not want to use Drag &Drop editor you choose Custom and here upload your template or create new HTML template.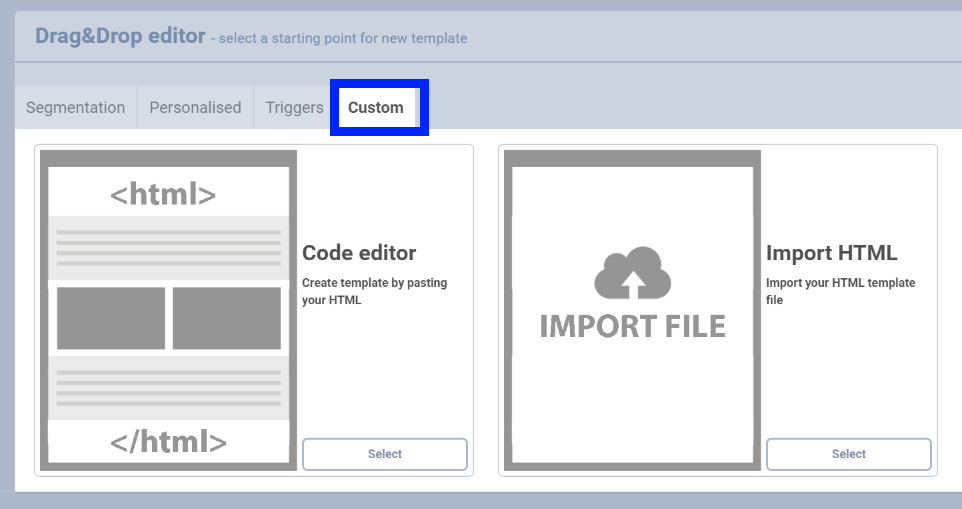 Then you simply drop files to upload them. In case your newsletter template is valid you can press Save and whole process is done and template ready to be used in your campaigns. In case you are going to upload html template and images separately, the first needs to be upload html template and then images in zip. format.